On April 27, 375 alumni, faculty, students and staff gathered at Gotham Hall in midtown for a special event celebrating Dean James J. Valentini.
The evening culminated with Valentini being presented the Alexander Hamilton Medal, the highest honor paid to a member of the Columbia College community.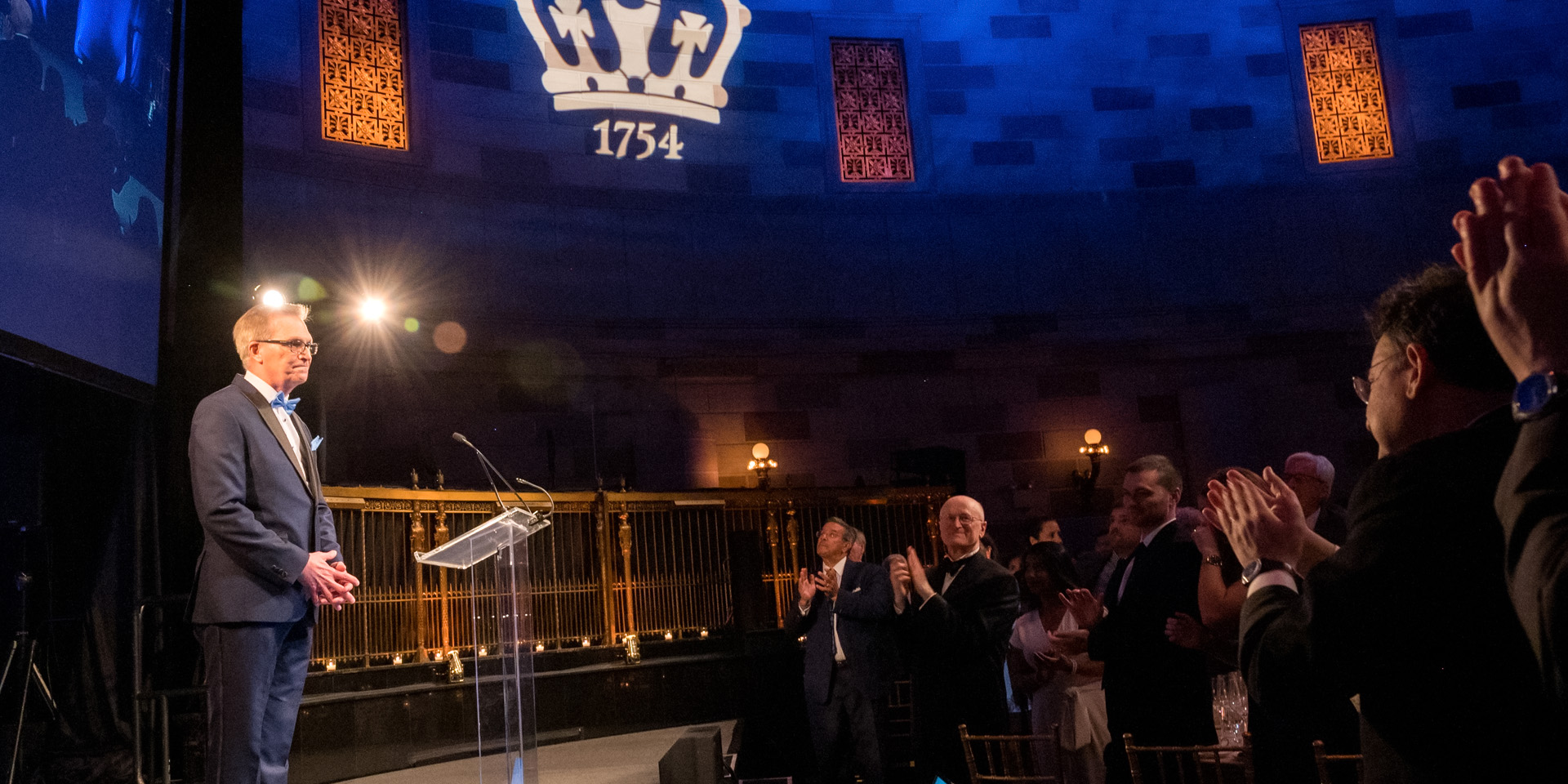 "I have had the great and rare good fortune to be part of the grand enterprise that is Columbia College," Valentini said while accepting the medal. "But that good fortune is not simply luck — it requires real effort. And I am deeply grateful, and appreciative, to all of you here tonight who have been part of that effort, and to the thousands more who cannot be here. Every one of those individual interactions has been important to me, and every one has contributed to the development of Columbia College over the past 11 years."
---
Watch the full program
More than $16.3 million was raised in connection with the event for the newly established Valentini Endowment Fund for the Columbia College Journey, and from other gifts made in the dean's honor. The fund honors Valentini's commitment to holistic student development by supporting student experiences beyond the classroom.
An array of speakers took to the podium to reflect on their experience with Valentini, offer perspective on what distinguishes him as a leader and give thanks for his commitment and contributions. Several themes emerged, including the dean's ability to build community and connect with people.
Former Attorney General Eric H. Holder Jr. '73, LAW'76 opened the evening, reflecting on his friendship with Valentini before observing, "My connection with 'Deantini' is not a unique one — his ability to listen, to understand, to empathize and most importantly, to act, is the center of why Jim is such a transcendent and popular figure on Morningside Heights."
Holder, with whom Valentini launched the Eric H. Holder Jr. Initiative for Political and Civil Rights, hailed the dean's progressive approach toward the Core Curriculum, noting that he has connected it "to the contemporary world in ways that were unimaginable a few years ago." Holder concluded, "His has been a historic tenure, and a reflection of the depth of his character, his unquestioned integrity and his commitment to the values that define Columbia at its best."
"For the last decade, we have had the honor of partnering with Jim," said Nairi Balian CC'88, chair of the Columbia College Board of Visitors. "I have seen firsthand how deeply Jim Valentini cares for each and every member of the Columbia College community."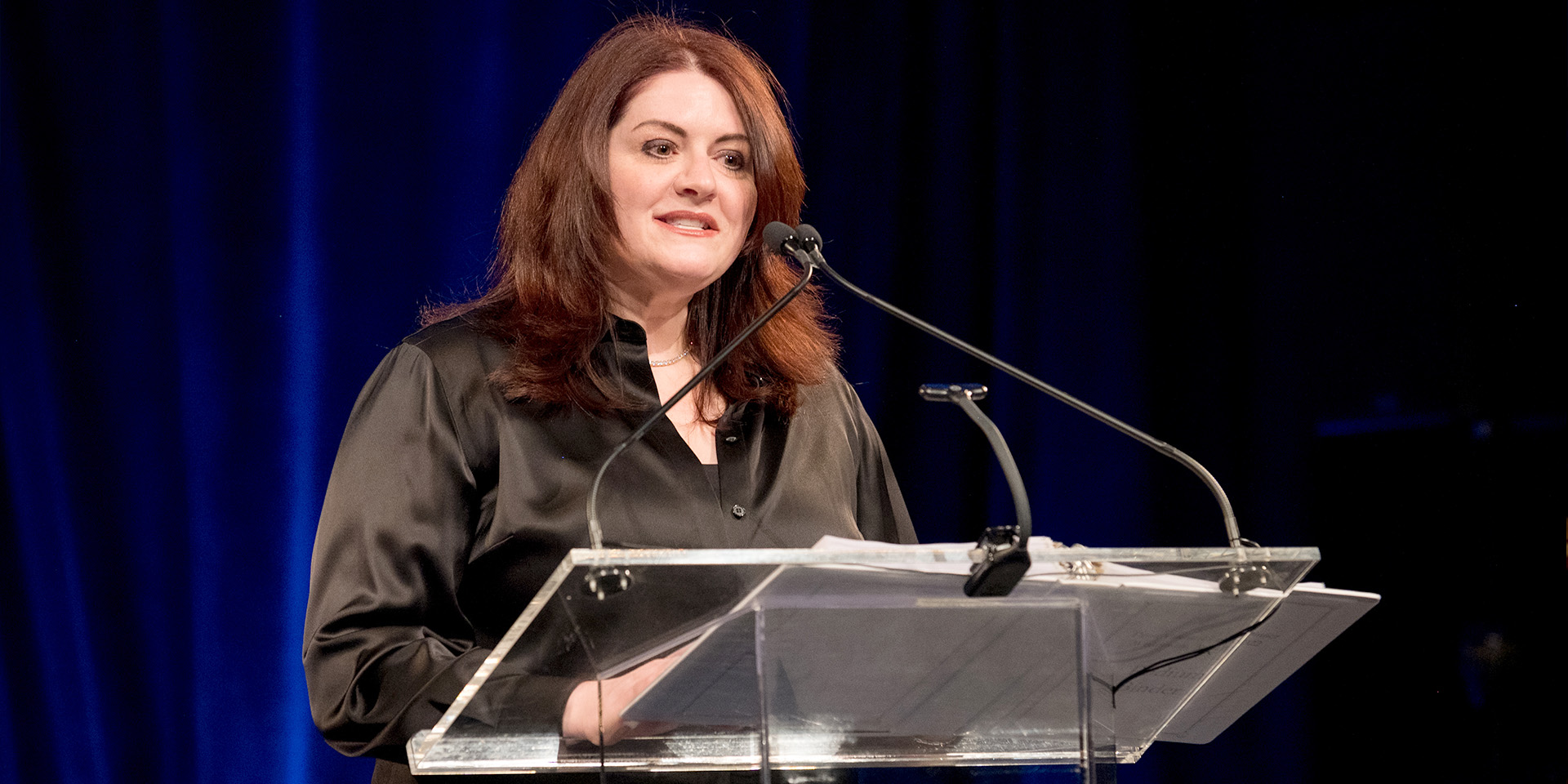 Other speakers included Ted Schweitzer CC'91, LAW'94, president of the Columbia College Alumni Association (CCAA); Alisa Wood CC'01, vice-chair of the Columbia College Board of Visitors; Robert E. Harrist Jr. GSAS'81, the Jane and Leopold Swergold Professor of Chinese Art History; Lisa Carnoy CC'89, co-chair of the University Board of Trustees; President Lee C. Bollinger; and Richard Witten CC'75, former vice-chair of the Board of Trustees. Margaret Sung presented a special gift on behalf of her husband, Michael Schmidtberger CC'82, LAW'85, a member of the Board of Visitors, who could not attend.
Wood aptly captured the sentiment in the room when she quoted poet Maya Angelou: "'I've learned that people will forget what you said, people will forget what you did, but people will never forget how you made them feel.'
"Jim, that is your superpower — you make everyone feel loved, respected, supported, challenged, pushed to be their best and, above all else, treasured in the arms of our beloved alma mater."
In a surprise to the dean, Arya Rao CC'22, who worked with Valentini through both the Columbia College Student Council and the Committee on Instruction, announced the Valentini Prize — a new award established through gifts by alumni, led by John Cirigliano CC'64 — to be awarded each year at Class Day. The prize will go to a graduating senior who demonstrates the qualities of "Beginner's Mind," Valentini's trademark philosophy, including "a demonstrated openness, willingness to hear different perspectives, curiosity and a desire to learn."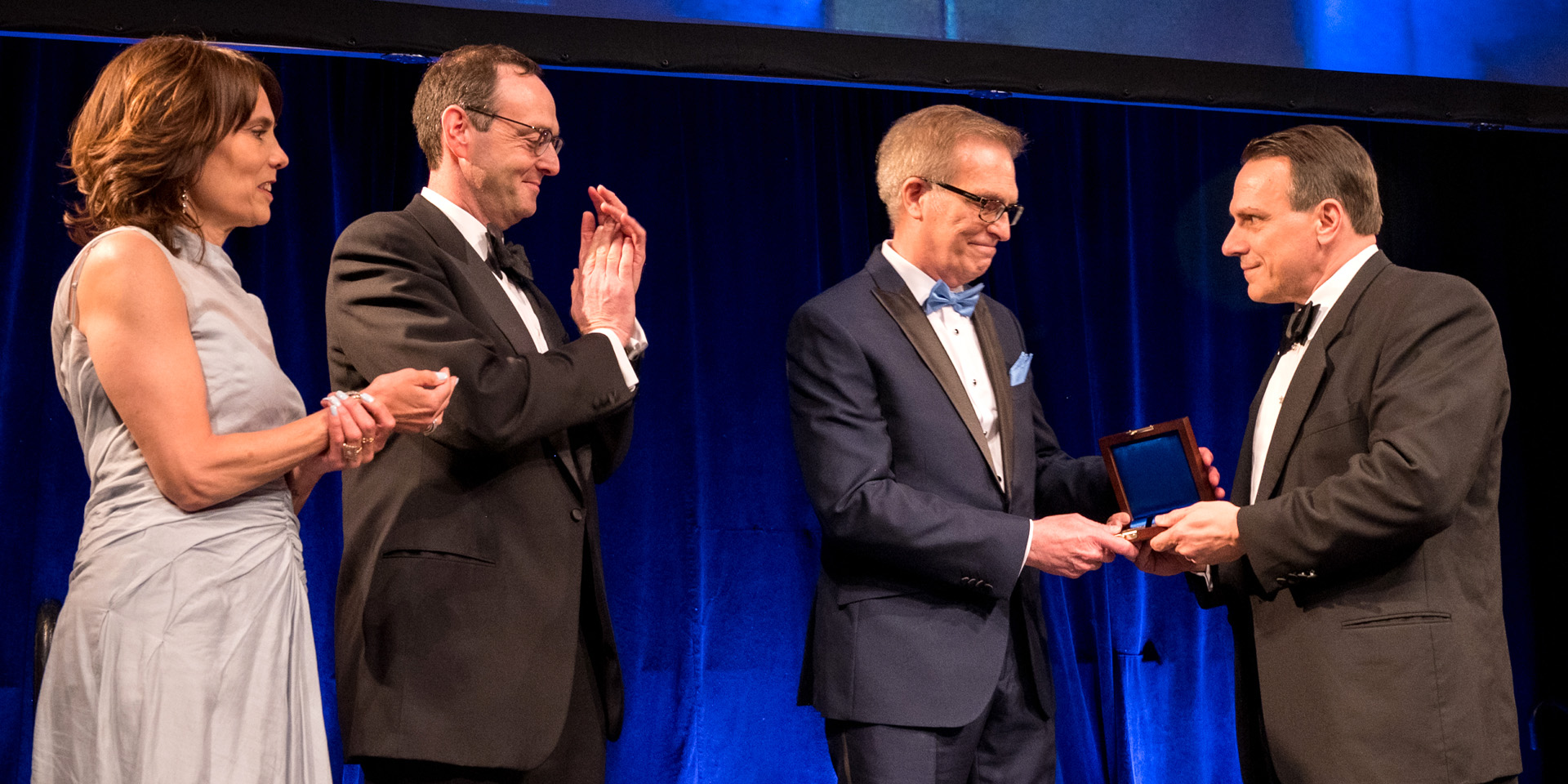 Valentini's oldest son, Evan, introduced a video highlighting the dean's impact, after which CCAA past president Doug Wolf CC'88, along with Schweitzer and CCAA past president Kyra Tirana Barry CC'87, presented Valentini with the Alexander Hamilton Medal.
The dean's speech reflected on the successes of his tenure — including the Core to Commencement fundraising campaign, My Columbia College Journey initiative, Live Well | Learn Well, Global Columbia Collaboratory and more — as well as on the ingredients for that success. "The dean has a large audience with whom to communicate, and a platform and a microphone with which to be heard," Valentini said. "Sometimes the platform and microphone are literal as right now; more often they are metaphorical. But the audience is always real. And so the dean is provided the means to convey the logical reasoning and create the emotional inspiration.
"But the audience is only attentive, the platform is only supportive, the microphone is only useful when there are ideas to express. Those ideas have to be clear, honestly presented, open for debate by all and easily recognized as advancing the best interests of the faculty and students of the College. Most importantly, those ideas have to be seen as respecting people, recognizing their needs and acknowledging the value of their contributions."
The dean concluded, "In just a few weeks, Deantini vanishes to emerge once again as Professor Valentini, but my experience as Deantini will remain forever as a greatly fulfilling and immensely rewarding part of my life. Thank you so much for the partnerships, collaborations and true friendships I have developed. I wish Columbia College and each of you individually great success in the years to come."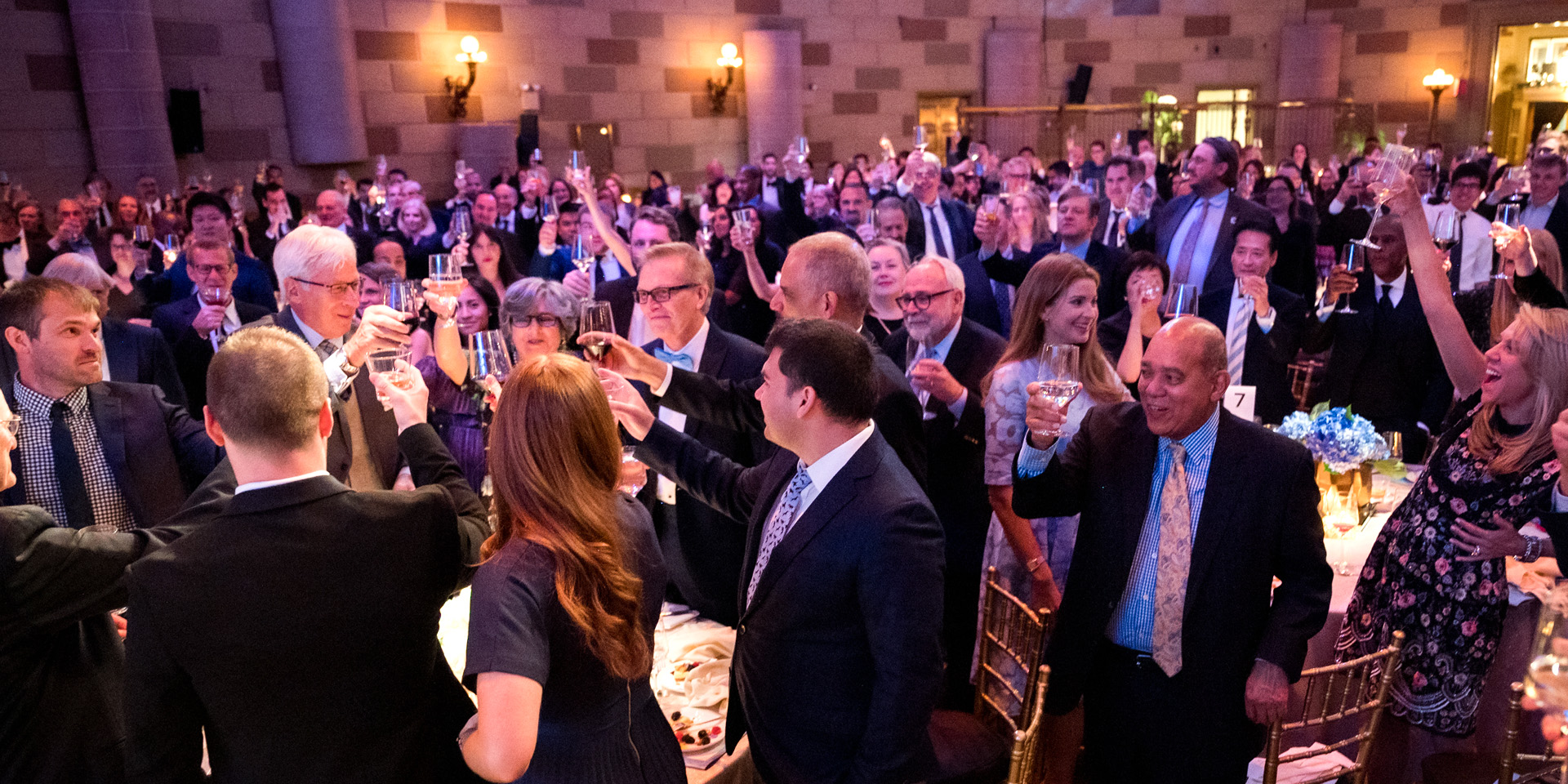 Witten, who called Valentini "one of Columbia's great leaders and certainly among the College's most impactful deans in our 270-year history," wrapped up the program with a toast: "Lions, pick up a glass! To offer thanks and gratitude, to the greatest dean in the greatest university in the greatest city in the world, Jim Valentini!"
---
Learn more about the Dean's legacy
The Dean's Priorities
Deantini Reflections
Valentini Endowment