Columbia College Today | Spring/Summer 2022
After 11 years as Columbia College dean, James J. Valentini reflects on his life and career.
By Alexis Boncy SOA'11
---
On a Monday night in early April, under the dome of Low Library, Columbia College students gathered in their semi-formal best to celebrate their outgoing dean, James J. Valentini. The vibe was decidedly student-event-meets-going-away-party: free food and drinks (including specialty mocktails like the "Deantini Martini"); swag in the form of themed T-shirts (one bore the chemical symbol for coffee); and a banner and notecards for writing send-offs. "Thank you for responding to my email on Christmas morning after my backpack had been stolen," read one. "I transferred to CC from SEAS bc of you!" said another. And a third: "Thank you for making each and every one of us feel special."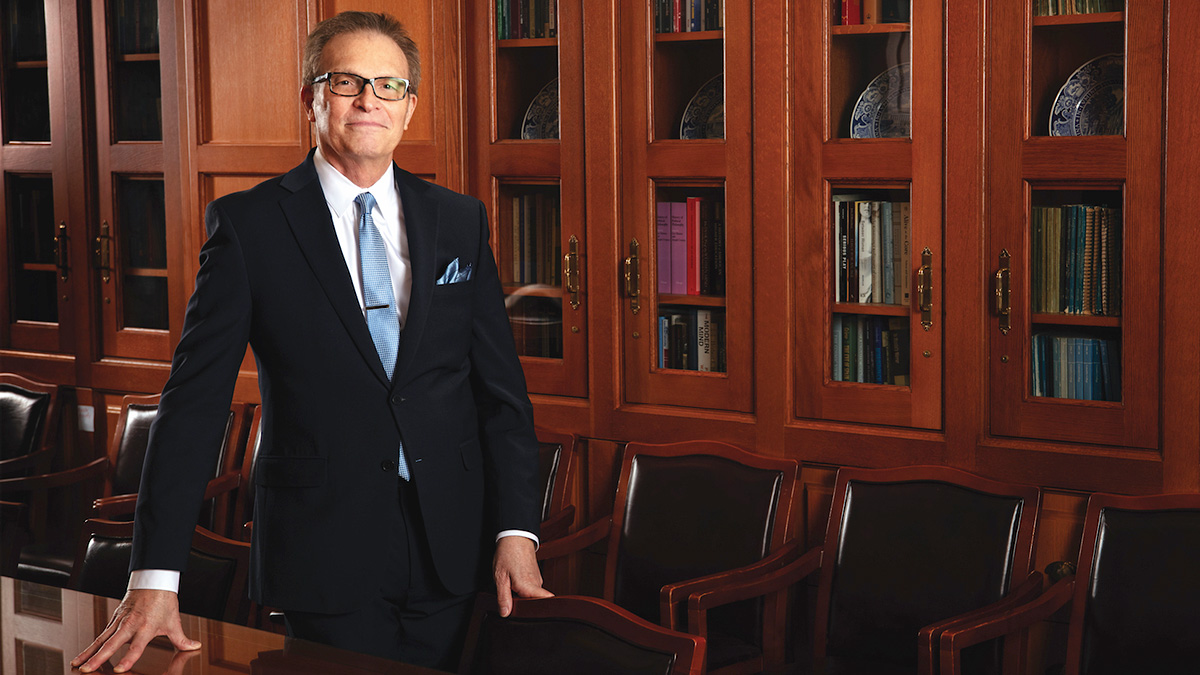 The event had been planned mostly in secrecy, a feat considering Valentini doesn't love surprises. But there he was at the appointed hour, in his customary blue dress sneakers and with his pocket square just so, causing a traffic jam as students rushed to say hello and pose with him for pictures. The program itself included several sets of remarks and, the most-secret centerpiece, a special performance by the Varsity Show. True to form, the ensemble spun the dean's origin story into original song — "From Appalachia/Comin' at cha!" — and served up a skit that imagined the last Dine with Deantini lunch. Ample parody was made of Valentini's most frequent phrases ("the greatest college in the greatest university in the greatest city in the greatest state in the greatest country . . . "). Near the finale, one of the students posed a question to the play's dean that the actual dean has been getting a lot: "What do you think your legacy will be?"
Valentini has in fact considered this question at length. His answer, however, sidesteps any attempt at prediction. A week earlier, in his office in Hamilton Hall, he'd explained his position to this reporter, who was also very interested in the topic. "I like to quote Pericles here, from Thucydides's History of the Peloponnesian War. Really, I'm paraphrasing. But he said, 'Your legacy is not written in stone monuments; it's written in the fabric of the lives that you have touched.'
"My legacy already exists in the many current students, alumni, parents and faculty members whom I've had a connection with. I don't know what that legacy is. In many regards, it won't be evident, and I won't see it because it'll happen long after I'm gone. But it's in their lives, and that's immutable."
---
VALENTINI STEPS DOWN on June 30 after more than a decade as dean of the College and vice president for undergraduate education. He is among the longest- serving College deans, having been appointed on an interim basis in September 2011 before becoming "the real dean" (as he says) the following June. Though he has agreed to this exit interview, he mentions repeatedly that the conversation makes him uncomfortable. It's not that Valentini is entirely reluctant to talk about himself or to reflect on his time as dean. But he doesn't like the imbalance of the setup — he wants to ask questions, too. By all accounts, this is one of Valentini's most defining qualities: his interest in other people. He wants to know where they come from and what they like to do, what they think and why they think what they think. He is always looking to learn. "And you never learn anything by talking."
He is also quick to deflect any notion that his deanship should be viewed through the lens of individual accomplishment. "I didn't do anything on my own — not a single thing," Valentini says. "To me, the greatest satisfaction is to work on something with other people and succeed as a group."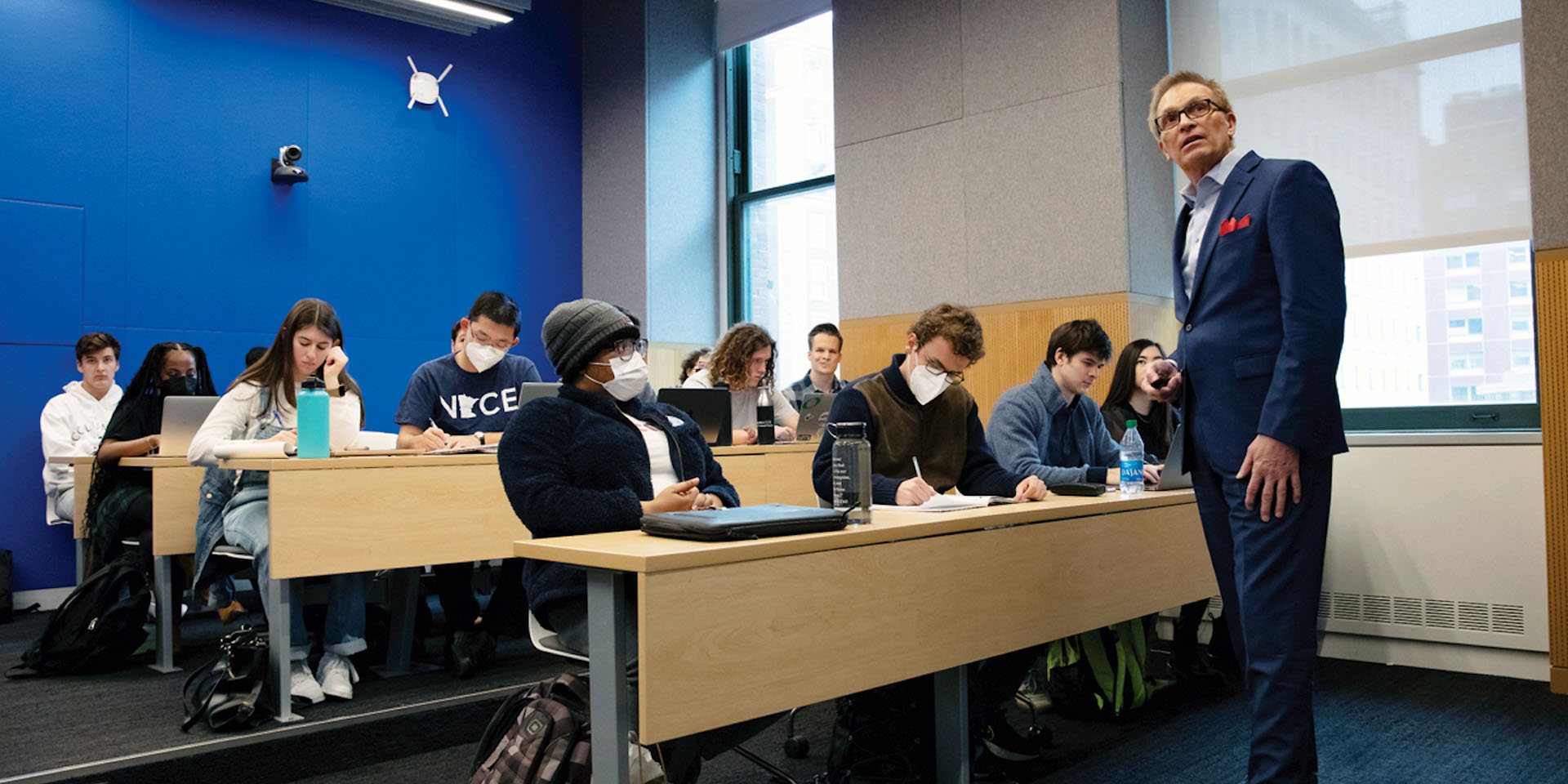 Teaching his science course on energy and energy conservation.
Still, Valentini's vision has transformed the College in ways too numerous to count; any short list would include his leadership in developing a comprehensive strategic plan — "the owner's manual for Columbia College," as he puts it — and conceiving and launching Core to Commencement, the first fundraising campaign dedicated exclusively to the College (in June, the campaign reached its $750 million goal). He recognized the need to connect the Core Curriculum more strongly to today's world, paving the way for a comprehensive reform of the Art Humanities syllabus and the creation of the Eric H. Holder Jr. Initiative for Civil and Political Rights. And he shifted the paradigm for alumni by painting the College as a unified and lifelong community — one where supporting and being a role model to students was as much a point of pride as their Columbia degree.
On campus, Valentini remade the culture twice over: He elevated student well-being to become a top priority, subsequently mobilizing the College community and many parts of the University to support student mental health through the Live Well | Learn Well campaign. And he introduced a new perspective on the College experience, deemphasizing academic success as the end-all, be-all — no small feat in the Ivy League. But Valentini was determined to break students' penchant for racking up credits and multiple majors. ("No one hires a transcript," he says.) His signature initiative, My Columbia College Journey, instead encourages undergraduates to take a holistic view by placing greater emphasis on personal growth and development. The essential underlying message: There's more than one road to finding fulfillment in life.
But for all of these and other concrete successes, Valentini is perhaps most closely associated with something far more conceptual — "Beginner's Mind." Indeed, it's hard to imagine anyone who has spent time in the dean's presence not being able to finish this sentence from the Zen monk and teacher Shunryu Suzuki: "In the beginner's mind there are many possibilities; in the expert's mind there are few." Valentini has introduced the principle of approaching the world as if seeing everything for the first time at every Convocation and Class Day since 2012. He also shares the philosophy in the first class of his science courses, illustrating his point with two photographs: one of a lit candle and one of a luminescent blue ball. It turns out the ball is also a candle, albeit one burning on the space station. "And I say to them, 'Beginner's Mind means to look at the candle on the left that you know with the same curiosity that you look at the candle on the right.'"
Valentini says that Beginner's Mind has been an integral part of his life for close to 30 years. "It basically develops empathy because it forces you to think about other people or situations and not make snap judgments," he says. "And it's a really hard thing to do — a really hard thing. I still have to practice. But I think it may be the single most important thing in determining success in life."
---
VALENTINI GREW UP in Lafferty, Ohio, a tiny town not far from the West Virginia border. "If you say it's part of Appalachia, which it is, that's more evocative of what it was like," he says. Lafferty had two stop signs, no traffic lights and a population around 200; the majority were first- or second-generation Italian Americans. "They could trace their ancestry back to one small area of northern Italy, like to three towns," Valentini says. "Everybody knew everybody else. I used to joke that my mother knew what I had done before I had done it."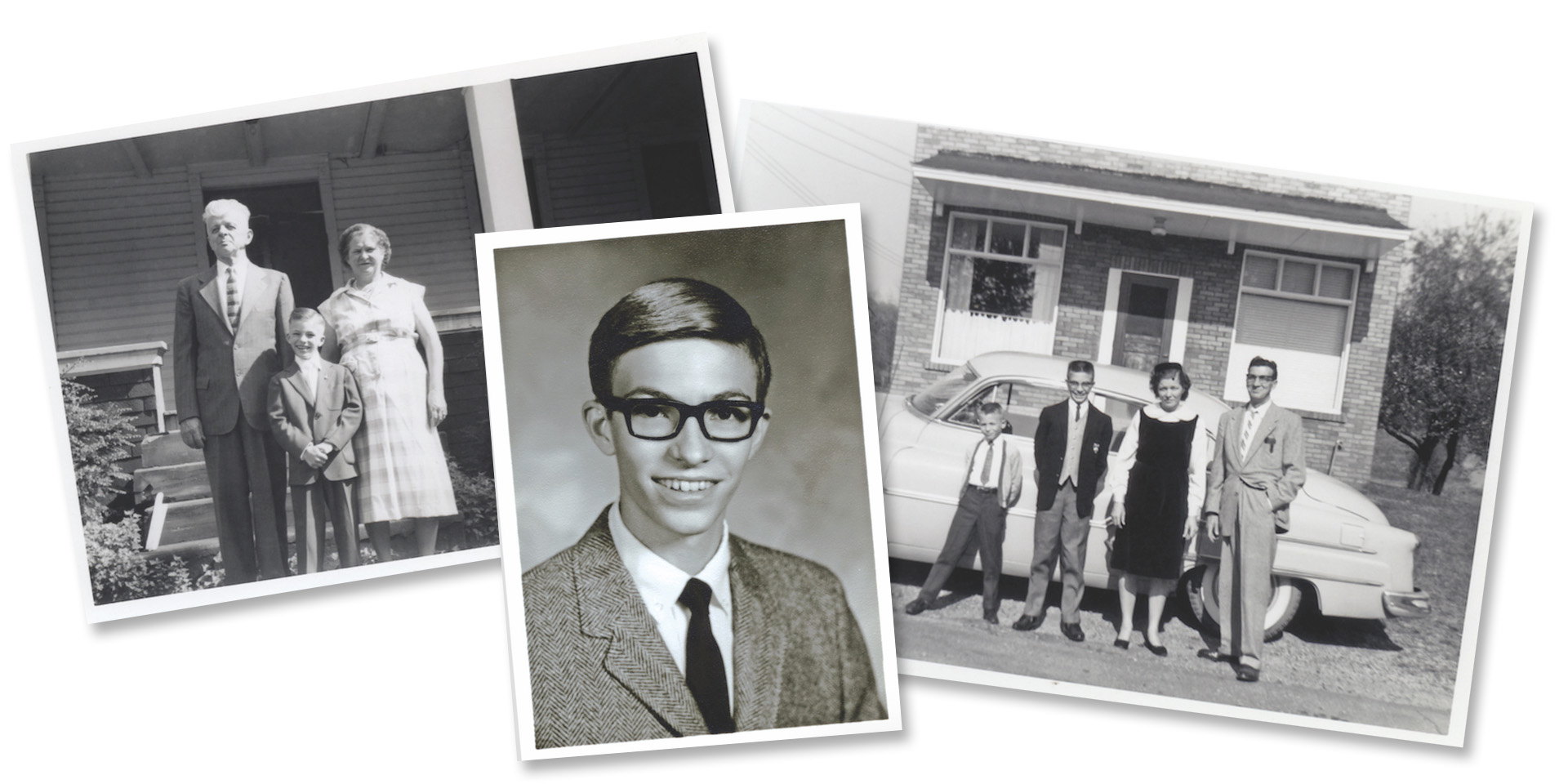 Life in Lafferty (left to right): Valentini with his step-grandfather and maternal grandmother, Joseph and Christina Orell, outside their home in 1957; his high school senior snapshot; with his youngest brother, Thomas (far left), and parents, Dorothy and Julio, in 1964.
That part of Ohio is coal country. The industry was the base of Lafferty's economy — originally deep mines, which gradually gave way to strip mines; there was one a few hundred feet behind the Valentini home. "All day long and certainly at night, I could hear the clanging of the dragline, which is a kind of excavator that removes the earth to expose the coal. It has lights on it, so at night I used to look out my bedroom window and I could see this huge rig and hear the clanging."
Both of Valentini's grandfathers were killed in mining accidents, and his step-grandfather owned a small mine. Valentini's father, Julio, however, traveled a different path. He dropped out of high school in the 10th grade and, as a younger man, ran a combination candy store and pool hall; after marrying, he became a radio operator for the highway department. Valentini's mother, Dorothy, was a bookkeeper before transitioning to work in the home. Valentini was the oldest of three boys, with two years between him and his middle brother, and six between him and the youngest.
"The town was very poor, with limited opportunities," Valentini says. "Many men died or were injured in coal mines. And the ones who didn't die ended up with black lung. There was a strong sense in my family, particularly by my mother, of the importance of finding another way. Because this was a dangerous way of life. The whole thing was, the next generation has to find something better. And school was really important in that."
For Valentini, that meant first his local elementary school, a three-room building with no indoor plumbing, run by nuns; then later, a regional Catholic school. Both were rigorous, with high expectations for academic work and an insistence on discipline. His high school science teacher was encouraging, and particularly influential. "I had a fundamental interest in how the world works, and that got translated into chemistry, which was more interesting to me than biology or physics," he says. His graduating class had 24 students.
"There was a strong sense in my family of finding another way. And school was really important in that."
Around age 10, Valentini started earning money by mowing lawns and washing cars. At 14, he began working in the local general store. "My first regular job paid 75 cents an hour," he recalls. He was paid in cash but never spent any of it. "I would take the money and just jam it into my jeans, and I would come home and I'd iron the money flat — perfectly flat — and I'd organize all the bills. Then when I had enough, I'd go to the bank and buy a U.S. savings bond. That was how I paid for college."
The general store is also where he learned how to talk to other people. Valentini was painfully shy. ("People don't believe me, but I am fundamentally an introvert," he says.) He also spent summers helping his widowed grandmother. "She had a big house, 14 rooms, and an old barn on two acres of property — we'd do yard work, maintenance, painting, whatever," he says. "She could work all day long. That's all she ever did in life. She taught me — without saying so — that hard work was its own reward." In the evenings, she'd make dinner while Valentini read novels borrowed from the local bookmobile. "It came around every other week or so, a big truck with books in the back . . . Moby Dick, Sinclair Lewis, The Scarlet Letter, Nathaniel Hawthorne — lots of American literature."
Then, as now, he was fascinated with cars. As early as age 8, Valentini would sit on the floor at the supermarket and read automotive magazines off the rack while his mother shopped. Once he was tall enough for his feet to reach the pedals, he would drive his grandparents' old car around the yard. "Around and around, until my mother would yell, 'You're wearing out the grass!'" he recalls with a laugh.
Valentini was the first in his family to go to college, attending on a mix of scholarships, loans and the money he'd saved. He chose the University of Pittsburgh because he wanted to be in "a real city, a place where I could have some anonymity." Even so, he was terrified. "I had never slept anywhere other than my grandmother's house or our house. I had never used a public restroom, never been on a bus, a train, a taxi, anything. And that was a time when you didn't have a lot of orientation programs — people were admitted and it was, 'OK, do the best you can.'"
For the first month, whenever he visited the library, he sat in the same seat near the entrance. "It wasn't the place for studying — it had a stool without a back, and what was then called the Reader's Guide to Periodic Literature, which is an ancient thing that predates electronic databases. But I didn't know what it was for. I'd never been in a real library, certainly not in a place this big. I didn't know how you were supposed to behave."
Doing well on his midterms helped ease his discomfort, and by the end of the first semester, he realized he would be OK. "I was still awkward and out of place," he adds. "There were so many kids who were from cities who had done things and seen things that I had no knowledge of. But I wasn't terrified anymore."
Valentini had roommates the first few years and lived in singles afterward. At one point, he was the only person on a floor of football players, "surrounded by guys who weighed twice what I weighed. They were just leading a whole different life than I was leading." He laughs. "I was kind of like a little mascot to them." Valentini recalls that he gained confidence as he succeeded academically. "I found a circle of people — not a very big one — but people with whom I had something in common, and I felt I could navigate and I wouldn't say the wrong thing." He considered majoring in philosophy, but was dissuaded after taking a course on Kant. "I couldn't understand it at all, and I figured I had no prospects there, so I'd stick with chemistry. I think it was probably a good choice."
---
INSIDE VALENTINI'S OFFICE in March, a flattened moving carton resting against one wall offers the only visible evidence that he'll be leaving this space in three months. Above it hangs a piece of art — a curving, looped wood shape that turns out to be the outline of the racetrack at Monte Carlo (only two visitors have ever identified it). Nearby, a glass cabinet displays a shelf of Buddhas and many model cars; the latter are largely gifts from alumni and students. Valentini pulls out a small Ferrari. Asked what draws him to cars, he hesitates. "Going fast is one of the things I really like in life," he says finally. "I rode my bicycle as fast as I could, pedaled full speed down a hill without a helmet. When I lived in New Mexico I learned to ski, and I wanted to go as fast as possible down the hill. Cars are about speed, skiing is about speed, bicycles are about speed.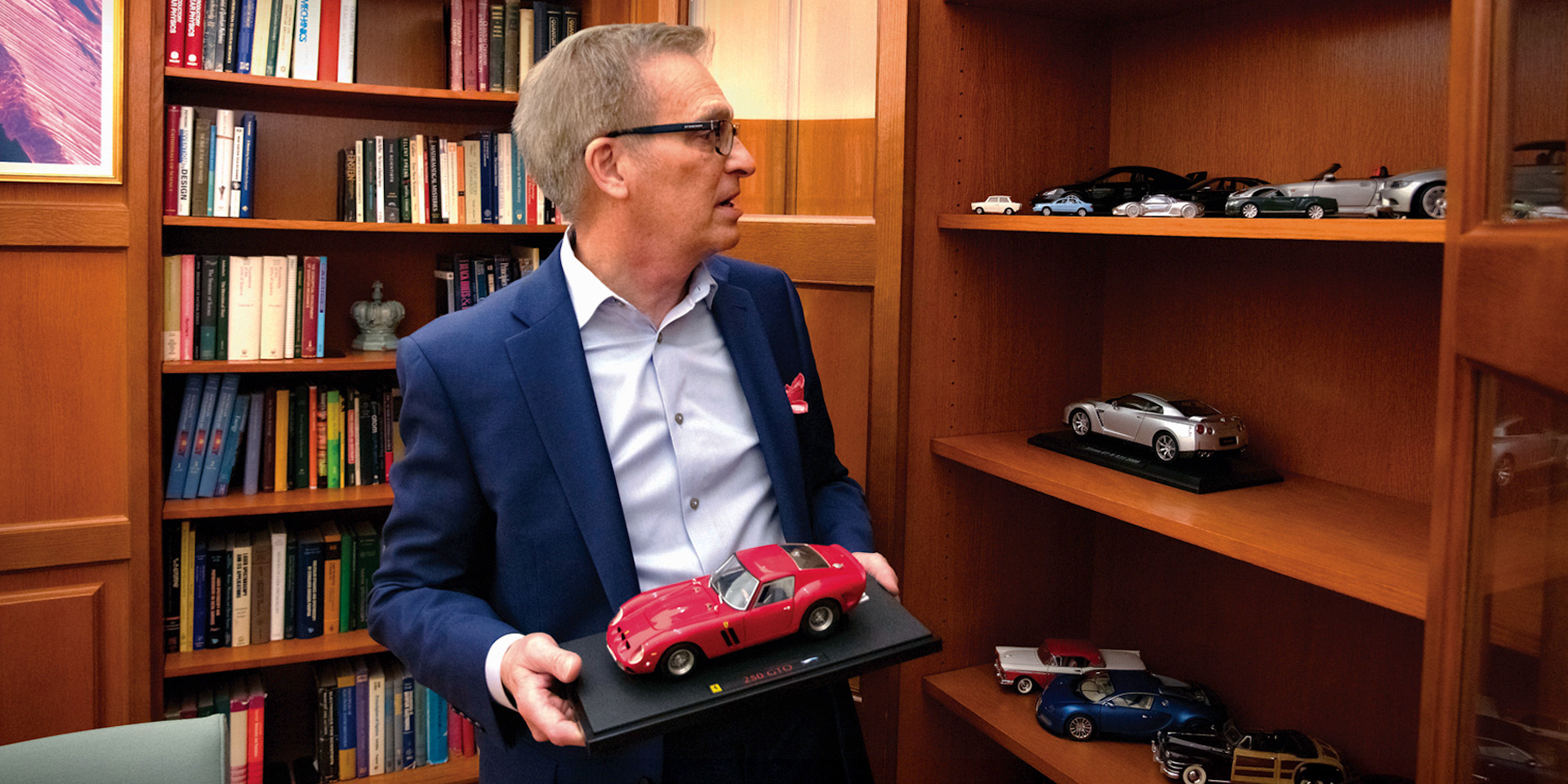 Many of the model cars in Valentini's office were gifts from students and alumni.
"Cars are also about freedom," he adds thoughtfully. "And when you're trapped in a little town, a car represents freedom in a way."
Valentini speaks openly about his modest background, and often shares pieces of his biography in conversation. He says that Admissions even has a special letter that talks about his early life, sent to admitted students from rural areas and students who are first generation. Considering this, he again references empathy. "It's extremely valuable as dean to have had these experiences, to have grown up in a small backwater town, to have had my college experience. It helps you understand current students, some of whom approach college in a similar way. I'm really grateful for it. It gives you such a perspective on life."
That said, Valentini sometimes worries that students will view him and his story as being somehow exceptional. "And if it's exceptional, then it's not accessible." He pauses before adding: "There's nothing remarkable about me. I didn't set out to be dean. I just did one thing after another, and it led to this; it could have led to something else. There's serendipity in this, too."
"People don't believe me, but I am fundamentally an introvert."
Some of that serendipity occurred in 1990, when Columbia chemistry professor Ronald Breslow gave a seminar at UC Irvine while Valentini was in his sixth year as a professor there. (Previously, he had been a member of the research staff at Los Alamos National Laboratory.) "Because Ronald was talking to everyone in the department, he talked to me," Valentini says. "The next day, I got a call from Columbia saying, how'd you like to come here?" Another cosmic turn came in 1994, when he met Teodolinda Barolini at the first session of the newly elected Executive Committee of Columbia's Arts and Sciences faculty. Valentini was making notes to help him remember who was who; when Barolini introduced herself, he wrote, "she's the cute one." They married in 2001. (Both have sons from prior marriages; Valentini's are Evan and Colin GS'17, and Barolini's is William.)
In his 32-year career at Columbia, Valentini has been chair of the chemistry department, director of the chemistry department's Undergraduate Studies Program and sat on an array of College and University committees. He was instrumental in creating the Science Research Fellows program, a four-year designation for Columbia's most promising science students.
Valentini recounts the moment he became interim dean in 2011: "They asked me at 1:00 on a Friday. I said OK, and they made the announcement at 4:00. I had no anticipation of doing it any longer than needed." He wryly recalls the BWOG headline upon his formal appointment in June 2012, "Deantini Is Now CC Dean Forever." "It wasn't forever," he says, "but it was a pretty long time."
Looking back on his tenure, the dean says his biggest takeaway is that people are the College's most vital resource. "I already knew the importance of valuing people, but the scope of what we do is enormous. The role of the College in the lives of students and faculty has far more dimensions than what I anticipated.
"The success of a collection of people is not easy," he adds. "The secret is to surround yourself with people who are smarter than you, and to listen to them. I ask questions, and I expect people to be able to explain to me why they think something. Sometimes I'll disagree and then we'll talk about it. But everyone is willing to work together, and that's why we're successful."
Despite Valentini's discomfort on the question of legacy, he allows that there are some things that he would like to see continue: the strategic plan, Beginner's Mind, My Columbia College Journey, Live Well | Learn Well . . . and Pantone 292. "The last seems almost like a throwaway," he says, "but it's a visual symbol of our connection to one another. All you have to do is look up at the sky, and that's Columbia College blue."
Chatting outside Hamilton with Sina Ahdoot '23.
Asked what he'll miss about being dean, the answer is immediate: "The interaction with so many different people, every day. I am really going to miss that." He repeats the last sentence, quietly. "That brings me to tears, actually." He tells a story about a CC'20 alumna who approached him recently at an event in Los Angeles, to share how much it meant to her that he'd taken 10 minutes to chat on the Low Steps one afternoon. "There are so many episodes like that," he says. "You can change a student's life here by one small thing.
"I consider myself tremendously fortunate," Valentini adds. "The most important good fortune is to have a strong family and good friends, but not far behind that is the good fortune to be able to do something in life, working with people whom you respect and who share a common sense of purpose with you. And you work together on something that is undeniably, unequivocally really important. Being dean is one of those things."
---
PHOTOGRAPHS BY JÖRG MEYER
ARCHIVE IMAGES COURTESY JAMES J. VALENTINI
The Dean's Priorities
Deantini Reflections
Valentini Endowment